Glass Blown Jewelry At Its Finest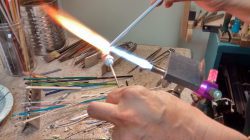 Kalpana's Fine Soaps & Jewelry captures the art of lampworking (glass blowing) with amazing one-of-kind pendants, earrings and more. Each piece of fine glass-blown jewelry starts in its rawest state, from long glass rods imported from Murano, Italy. We, then, transform these glass rods into a lively molten canvas of spectacular colors and textures as we create, sculpt, and then, lastly, skillfully embellishes each piece of jewelry with silver garnishes.
From the flame, to the kiln, to the finishing table, and then to your home, you are purchasing a piece of artwork that's sure to become a notable memory and family heirloom.
If you are interested in purchasing our fine jewelry, call us at 717.776.9475 or see us at an Event.